Estelle Lemire, Composer & Ondist
Estelle Lemire graduated from the Conservatoire de musique du Québec in Montréal after extensive musical studies from 1982 to 1991. A student of Jean Laurendeau, she was awarded a First Prize in Ondes Martenot performance (1988) and also studied composition under Gilles Tremblay, receiving a First Prize in composition in 1991. Her curriculum also includes Music Analysis in the class of Gilles Tremblay, for which she was awarded a second Prize in 1990, as well as training in electroacoustic music with Yves Daoust.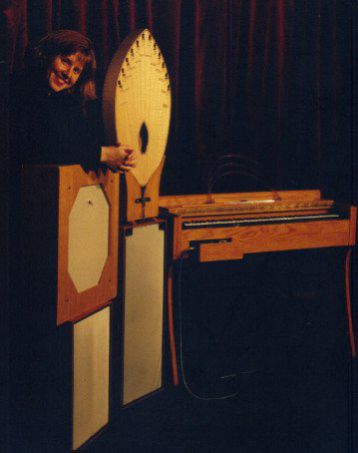 A soloist and chamber player, specializing in Ondes Martenot for over 25 years, Estelle Lemire focuses mainly on the performance of new music while advocating better knowledge and appreciation of her instrument. She has performed for radio and television programs as well as for contemporary music organizations, ensembles, orchestras and festivals in Canada and the United States. Her recordings include a solo album for the SNE label and a Messiæn CD with the Ensemble d'Ondes de Montréal for the ATMA label. In addition to playing staple works from the Ondes repertoire, including all of Messiæn's pieces, but also Jolivet, Milhaud, Honneger, Varèse, Murail, Vivier and Boucher, Estelle gave the premiere performances of several works by contemporary composers. In 2015, she played the Turangalîla Symphony by Messiæn at the MNM Festival, Jeanne au bûcher with the New York Philharmonic, organised the symposium La Fête des belles ondes including a concert and an exhibition at the Conservatoire de Montréal, she premiered and recorded In_Vitro by Marc Hyland and participated to Benoit Charest's music for the movie Paul à Québec. Estelle also had the pleasure to be appointed Ondes Martenot teacher at the Conservatoire de musique de Montréal, the only class of its kind in America.
As a composer, her catalogue comprises over fifty scores written for soloists, chamber music ensembles and orchestra. A number of these feature Ondes Martenot, whether with percussion, with gamelan or live electronics. Her musical language evolves from various influences: minimalism, a yearning for clarity of expression, micro-tonal research, integration of spectral harmony, as well as the recycling of musical objects, processes, manners and styles.
Her works have been performed across Canada by new music ensembles and various festivals in Canada and abroad. In 1995, her Miniatures for string quartet were selected to represent Canada at UNESCO's International Rostrum of Composers and later featured at Paris' Festival Présences in 1999. She took part in the Symphonie du millénaire (Millenium Symphony), a gargantuan project pioneered by the SMCQ in 2000. In 2001-02, a grant from the CAC enabled her to write several transcriptions for her instrument, a few of which she later recorded in 2004. Her piece Mémoire/Éclaircie for large ensemble, premièred by the SMCQ, was one of the nominees in the category Création de l'année (Year's Best New Works) at the 2008 Opus Awards. In 2009-10, she composed a collection of 15 Études sérieuses for Ondes with the support of the Canada Arts Council. Cantus Arborescens, a musical hommage to Gilles Tremblay was given its première by the Aventa ensemble in February 2010. In January 2011, her score for piano in sixteenth-tones entitled Esquisses sur pointes was given its first performance in a Montreal recital by Bruce Mather. In 2010-11, with support from the CALQ, she created the Raga Project for Ondes and digital sound file, a large-scale piece lasting 60 minutes where she resumed a passion for electroacoustics while expanding the Ondes' expressive potential. In 2012, at Bruce Mather's request, she composed Alternance, for 2 pianos tuned a quarter-tone apart (premiere January 21st 2015). She is currently composing A brief history of the Ondes (CAC) as well as Madrigal for quartet and electroacoustic (CALQ).
Estelle Lemire is a member of SOCAN and of the American Federation of Musicians (AFM/GMMQ); she is the recipient of numerous grants and commissions from the Canada Arts Council, Radio-Canada/CBC and from the Conseil des arts et lettres du Québec.
Discography
La Fête des belles eaux

Messiaen, EOM, ATMA, 2008

Estelle Lemire, Récital

featuring Suzanne Ruberg-Gordon (piano), BC/EL, 2004

Compte à rebours, sur le nom d'Arraymusic

Arraymusic, Artifact, 2001

Estelle Lemire, Ondes

featuring Adrienne Park (piano), SNE, 1997

Miniatures

for string quartet, ECM, SNE, 1994

Wyschnegradsky

EOM, SNE, 1993

Ensemble d'Ondes de Montréal

EOM, SNE, 1992
Translated by Marc Hyland